Ferrari is the official wine of celebration of "Casa Italia Collection FISI Cortina 2021"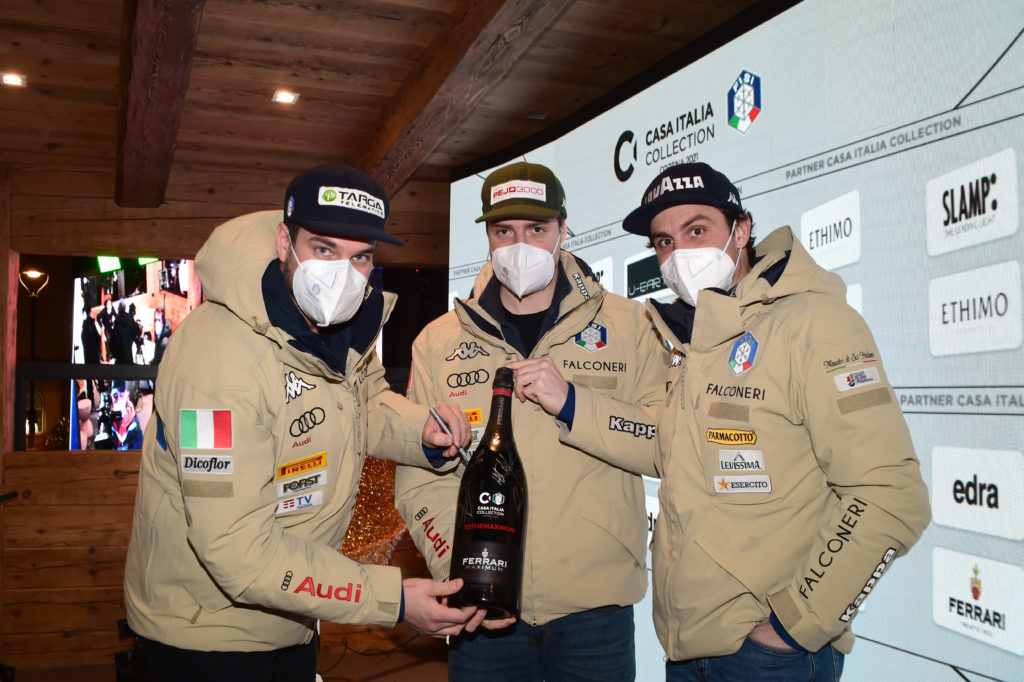 Yet another partnership between the Italian Winter Sports Federation (FISI) and Ferrari Trento, in view of the Alpine World Ski Championships in Cortina d'Ampezzo.
Ferrari will be the official sparkling wine of "Casa Italia Collection FISI Cortina 2021" during the Alpine World Ski Championships, which will be held in Cortina d'Ampezzo from 7th to 21st February 2021.
Fourteen days of top-flight sport featuring the world's finest skiers, during which Casa Italia will be the meeting place – and venue for celebrations – for the Italian athletes, coaches, officials, authorities, and the nation's most important media.
Casa Italia's is an innovative format, which combines sport with the best that our country has to offer: from art to design, from food and wine to music. Ferrari confirms its role as Italy's wine of celebration par excellence in the realm of great sporting events, having already been the official sparkling wine of Casa Italia on a number of other important occasions, including the 2010 Winter Olympics in Vancouver and the last edition in PyeongChang in 2018, as well as at Rio in 2016.
In Cortina, as at all of these events, Italy's athletes will toast their victories with Ferrari's Trentodoc wine as they relive the most exciting moments of their various competitions.
Ferrari's sparklers will also be offered to the guests who enliven the activities of Casa Italia every day, as the venue acts as a media hub, a meeting place and setting for virtual initiatives devoted to ski lovers.
The wine and food section will, as always, represent – even if with the necessary limitations – a fundamental element in the Casa Italia experience. For the occasion, two of Cortina's finest chefs, Graziano Prest of the "Tivoli" Restaurant and Fabio Pompanin of "Al Camin" have devised a packed lunch for the guests, accompanied by a small bottle of Ferrari Maximum Blanc de Blancs.
It will in fact be Maximum Blanc de Blancs that will act as Ferrari's ambassador in this initiative, because this new Trentodoc wine expresses to the full the Maison's values of Italian character and excellence, as well as an invitation to experience in an intense manner the emotions of every moment and always strive for the best possible result: all ideal characteristics for accompanying this splendid adventure and raising a glass, #ToTheMaximum, along with Italy's athletes.

Ferrari Trento promotes a culture of drinking responsibly which is part of the Italian Art of Living.
It is a culture linked to the ritual nature of food and the celebration of convivial occasions, in which consumption is moderate and informed.
Enter the ferraritrento.com website only if you share this approach and if you are of the legal age to drink alcohol in your country: a world of excellence awaits you!
Access to the site was denied because you are not of legal age to drink alcohol.