Luna Rossa Prada Pirelli celebrates #ToTheMaximum its victory in the PRADA Cup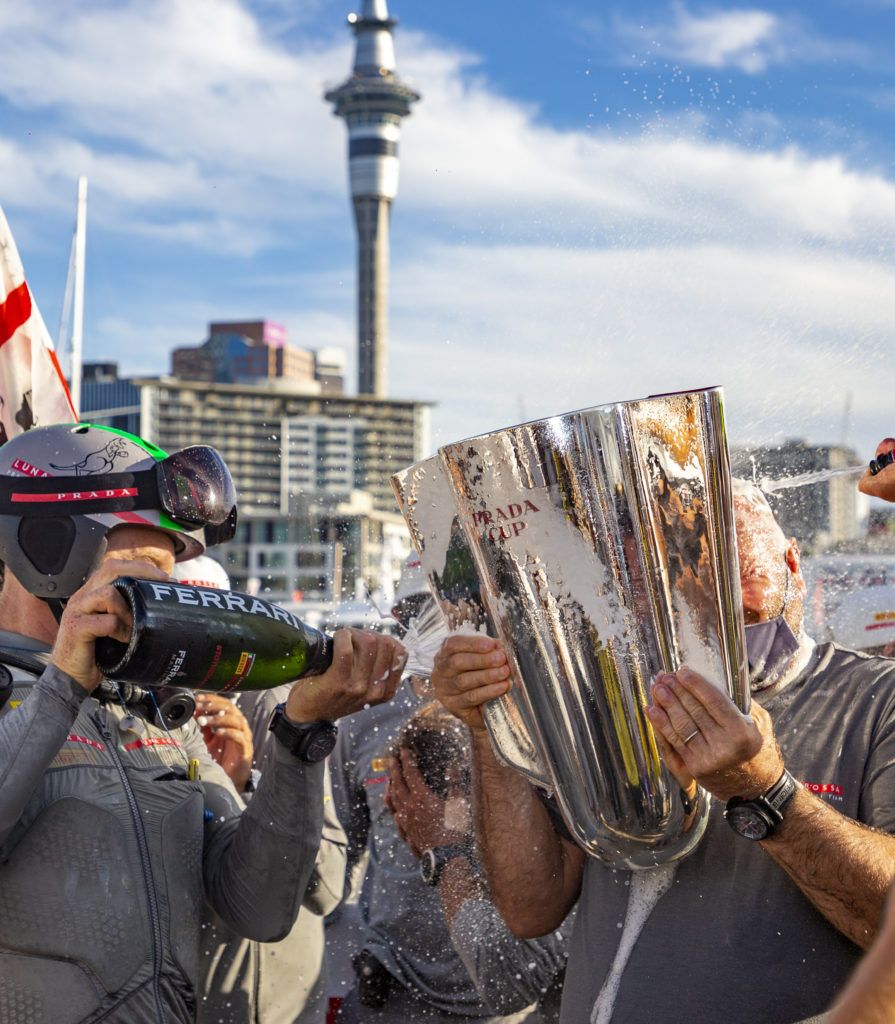 The Italian team has won the PRADA Cup against Britain's INEOS Team UK, thus earning the chance to challenge New Zealand in the final of the 36th America's Cup, presented by PRADA
In Auckland, a big party with lots of raised glasses of Ferrari celebrated the overwhelming win of Luna Rossa Prada Pirelli over the British INEOS team. On 21st February, the Italian crew concluded the PRADA Cup with the last two decisive points needed to take home the 7 races necessary to claim the Challenger Selection Series. Luna Rossa thereby gained the right to challenge Team New Zealand in the final of the America's Cup, scheduled from 6th to 15th March, thus repeating the feat achieved by an Italian boat twenty-one years ago.
In these eight races Luna Rossa Prada Pirelli demonstrated cohesion, coolness and great skill, always remaining in contention with the British team and never losing sight of its ultimate goal. Max Sirena, skipper and team director of Luna Rossa Prada Pirelli made this statement: "I am very happy for my crew, for all our sponsors, and for all the people who have worked for us in this project".
 Ferrari Trento, sparkling partner of the Italian team which it has supported ever since the very first stages of this adventure, is proud to celebrate a historic victory that highlights the values of top-level sport and, especially, the excellence that our country is capable of achieving in a huge number of fields. This exciting victory was an opportunity for the fortunate few who succeeded in getting hold of the Limited Edition of Ferrari Maximum dedicated to the Luna Rossa Prada Pirelli team – which sold out immediately – to celebrate this memorable accomplishment with a bottle.
And, after these celebrations, we now sail straight ahead towards the great adventure of the 36th America's Cup, presented by PRADA, under the motto #ToTheMaximum, the hashtag inspired by Ferrari Maximum Blanc de Blancs, which conveys the desire to live life to the full – ideal for accompanying the efforts of the Luna Rossa Prada Pirelli team.

Ferrari Trento promotes a culture of drinking responsibly which is part of the Italian Art of Living.
It is a culture linked to the ritual nature of food and the celebration of convivial occasions, in which consumption is moderate and informed.
Enter the ferraritrento.com website only if you share this approach and if you are of the legal age to drink alcohol in your country: a world of excellence awaits you!
Access to the site was denied because you are not of legal age to drink alcohol.