Ferrari launches its "Luna Rossa Prada Pirelli" Limited Edition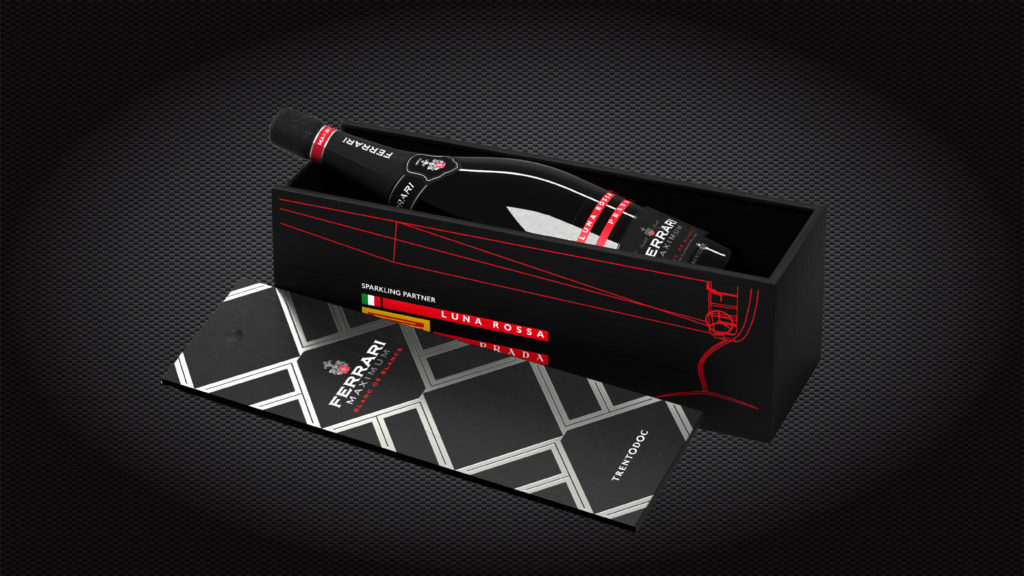 Looking forward to the 36th America's Cup, presented by PRADA, the Trentino winery has dedicated a special bottle of Ferrari Maximum Blanc de Blancs to the Luna Rossa Prada Pirelli team, of which it is the Sparkling Partner
 Ferrari Trento has launched a limited edition of Ferrari Maximum Blanc de Blancs, in just 2021 numbered bottles, to celebrate its partnership with the Luna Rossa Prada Pirelli team as it challenges for the 36th America's Cup, presented by PRADA.
The Luna Rossa Prada Pirelli team and Ferrari Trento share the values of excellence, innovation, and classic Italian style, all of which are perfectly represented by this special edition wine, designed together by the two organisations.
The bottle – elegant and minimal, and exclusively in a Magnum version – presents, apart from the logo of Luna Rossa Prada Pirelli, a stylized image of the profile of the boat in red, which is also featured on the wooden presentation case: an attractive and highly iconic design, aimed at encapsulating this extraordinary sporting endeavour. Both the bottle and the case will show the number of the bottle, from 1 to 2021, just like the year that has just begun and which will be full of exciting challenges for the team.
The decision to use Ferrari Maximum Blanc de Blancs as the official sparkling wine of the partnership springs from the inherent spirit of this Trentodoc, summed up in the hashtag #ToTheMaximum, which describes a desire to live life to the full. In this case, maximum performance and overcoming one's limits are two of the ideal goals of the Luna Rossa Prada Pirelli team's adventure, which Ferrari has followed right from the start, with the launch of the first AC75 in October 2019, baptized by Miuccia Prada with a bottle of Ferrari Maximum. The adventure has now got into full swing in the waters off Auckland, where the PRADA Cup is taking place. These races will decide the challenger for the 36th America's Cup presented by PRADA, scheduled for 6th to 15th March 2021.
The "Luna Rossa Prada Pirelli" Limited Edition is a must for all sailing enthusiasts, and will be available from the beginning of February.
For further information, please write to enoteca@gruppolunelli.it

Ferrari Trento promotes a culture of drinking responsibly which is part of the Italian Art of Living.
It is a culture linked to the ritual nature of food and the celebration of convivial occasions, in which consumption is moderate and informed.
Enter the ferraritrento.com website only if you share this approach and if you are of the legal age to drink alcohol in your country: a world of excellence awaits you!
Access to the site was denied because you are not of legal age to drink alcohol.