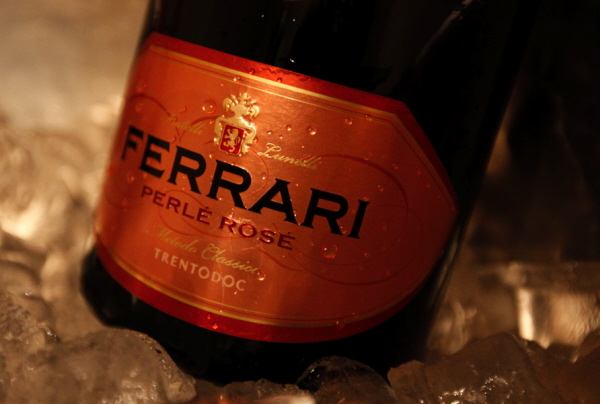 Born from the most anticipated harvest of the Ferrari Winery, and more precisely on August 2nd, due to very mild temperatures during autumn and winter and very little rain, with no snow. The temperatures were consistently above the average for the period even in spring time which caused an early start of the vegetative cycle with budding 15 days early. In late May began a cool and rainy period, which lasted until the summer, but did not require special treatments of thinning, because the vineyards had a very good growth balance. The bunches of grapes were rather sparse favoring the maintenance of good health. The early start of the vegetative cycle resulted in a significant early harvest. During August, with temperatures under the average and a few thunderstorms helped maintain good levels of acidity in the grapes and a very interesting aromatic evolution.
Regarding the visual examination, it has a color between coral and antique rose, animated by a dense and continuous perlage.
At the nose it is characterized by a wide and elegant fruity bouquet. Among the most significant notes one can find wild strawberries, raspberry, pink grapefruit, tangerine and orange blossom.
On the palate, the citrus freshness blends well with the rich roundness. The fruity taste (black cherry), sapid, austere and seductive, is enhanced by a delicate perception of tannins which gives a pleasant hint of almond.
A Trentodoc easy to pair with food, with an immediate pleasure, but which will give great emotions for years to come!



Ferrari Trento promotes a culture of drinking responsibly which is part of the Italian Art of Living.
It is a culture linked to the ritual nature of food and the celebration of convivial occasions, in which consumption is moderate and informed.
Enter the ferraritrento.com website only if you share this approach and if you are of the legal age to drink alcohol in your country: a world of excellence awaits you!
Access to the site was denied because you are not of legal age to drink alcohol.