Ferrari sparkling wine and Surgiva water at the Forum for the improvement of cooperation between Italy and Germany hosted in Frankfurt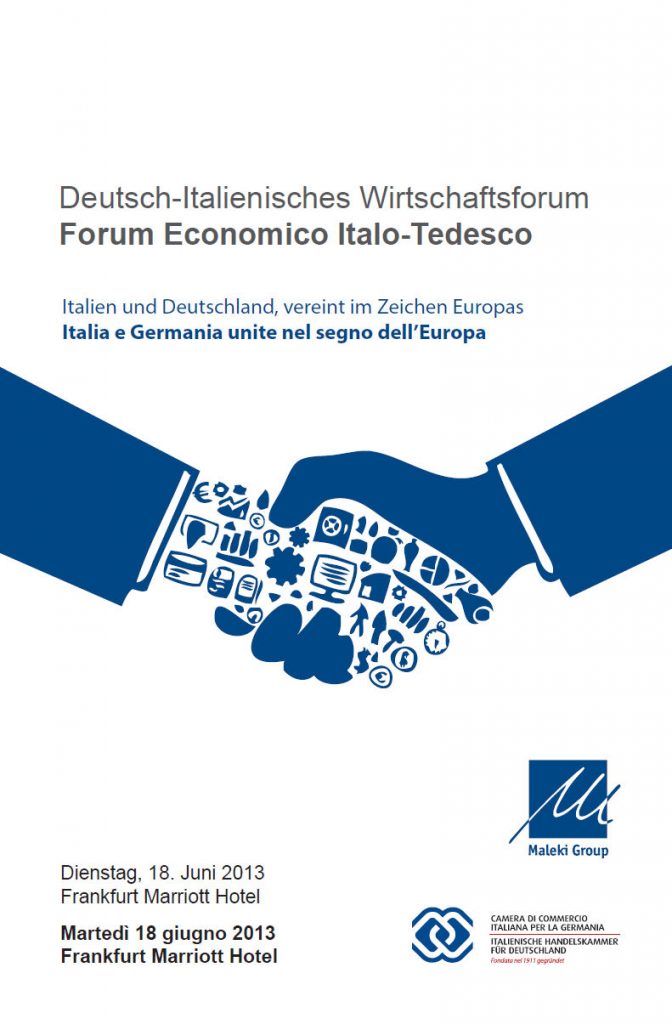 It is an event whose importance is realized in the theme, "Italy and Germany united in the name of Europe" and in the goal of  laying the foundation for more  cooperation between Italy and Germany.  It is also seen in the participants,  both Italian and German notables and finally, in the presence of Ferrari sparkling wine and Surgiva water which will accompany the lunch offered at the end . Surgiva will also be the water served to the speakers.
The first Italian-German Economic Forum is scheduled for Tuesday, June 18 at the Marriot hotel in Frankfurt and is organized by the Italian Chamber of Commerce for  Germany. Among the participants: Elio Menzione, Italian ambassador in Berlin, Emanuele Gatti, president of the Italian Chamber of Commerce for Germany, Frank-Walter Steinmeier, chairman of the SPD parliamentary group, the Italian ministers, Maurizio Lupi, for transport and infrastructure, Flavio Zanonato , for the economic development, the mayor of Florence, Matteo Renzi, Giuseppe Vita, President of Unicredit, Leoluca Orlando, mayor of Palermo, Lorenzo Bini Smaghi, chairman of Snam, Ferruccio de Bortoli, editor of Corriere della Sera newspaper, Alberto Orioli, assistant editor of the Sole 24 Ore newspaper. Ferrari Brut will embellish the lunch served after the forum is finished, while Surgiva water will also be the official water during  the Forum.



Ferrari Trento promotes a culture of drinking responsibly which is part of the Italian Art of Living.
It is a culture linked to the ritual nature of food and the celebration of convivial occasions, in which consumption is moderate and informed.
Enter the ferraritrento.com website only if you share this approach and if you are of the legal age to drink alcohol in your country: a world of excellence awaits you!
Access to the site was denied because you are not of legal age to drink alcohol.