Ferrari Trento among the protagonists of a Vincent Peters exhibition at the Palazzo Reale in Milan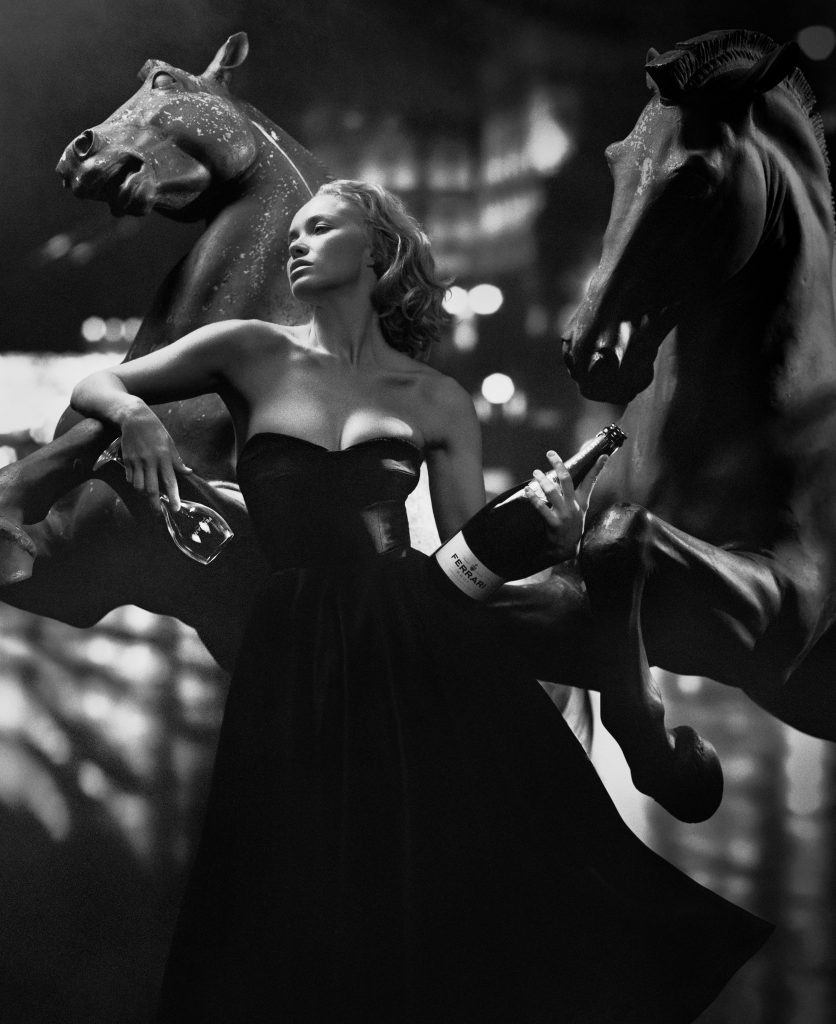 The master of black and white photography is honoured in a dedicated exhibition of 90 images, one of which depicts a bottle of Ferrari in the hand of one of his muses
Ferrari Trento features as one of the key figures of a Vincent Peters exhibition entitled 'Timeless Time', being held at the Palazzo Reale in Milan from the 12th of January to the 26th of February 2023. This selection of 90 black and white works uses light as the protagonist to define the emotions and tell the stories of the subjects portrayed, mostly celebrities of the calibre of Charlize Theron, Monica Bellucci, Vincent Cassel, Emma Watson and Penelope Cruz.
The exhibition, promoted by the Comune di Milano-Cultura and Nobile Agency, is overseen by Alessia Glaviano, Curator & Head of Global Photovogue, who has selected the most representative shots of a photographer who has created legendary campaigns for magazines all over the world and who is distinguished by his cinematic style and ability to play with light.
It was the atmosphere of Italian neo-realist cinema that inspired the shot in which a bottle of Ferrari Trento is held by a woman. The photo will be on display in Milan and later exhibited at Cantine Ferrari. The Ferrari Maximum Blanc de Blancs sparkling wine was also used to toast the exhibition opening on 11 January at Palazzo Reale.
Black and white photography is synonymous with a timeless elegance which Peters masterfully depicts in his shots, turning them into dreamlike stories, almost a film in a single frame. This same elegant and timeless black and white are also the colours that characterise the Ferrari Trento brand and, for over a century, the historic Ferrari Brut Trentodoc label.
Vincent Peters
Born in Bremen, Germany, in 1969. At the age of twenty Vincent Peters moved to New York to work as a photographer's assistant. Returning to Europe in 1995, he worked for several art galleries and on personal projects and in 1999 began his career at Giovanni Testino's agency as a fashion photographer.
Over the years Vincent Peters specialised in celebrity portraits, shooting legendary campaigns for magazines all over the world, distinguishing himself with his cinematic style.
His portfolio includes work for brands such as Armani, Celine, Hugo Boss, Adidas, Bottega Veneta, Diesel, Dunhill, Guess, Hermes, Lancome, Louis Vuitton, Miu Miu Netflix, to name a few. His works have been exhibited in international art galleries including, for example, Camera Work in Berlin, Fotografiska in Stockholm and the prestigious Art Basel in Switzerland
Trento, 12 January 2023

Ferrari Trento promotes a culture of drinking responsibly which is part of the Italian Art of Living.
It is a culture linked to the ritual nature of food and the celebration of convivial occasions, in which consumption is moderate and informed.
Enter the ferraritrento.com website only if you share this approach and if you are of the legal age to drink alcohol in your country: a world of excellence awaits you!
Access to the site was denied because you are not of legal age to drink alcohol.