Ferrari Trento and Alfa Romeo F1 Team Stake together for a charity auction born from the collaboration with the artist BOOGIE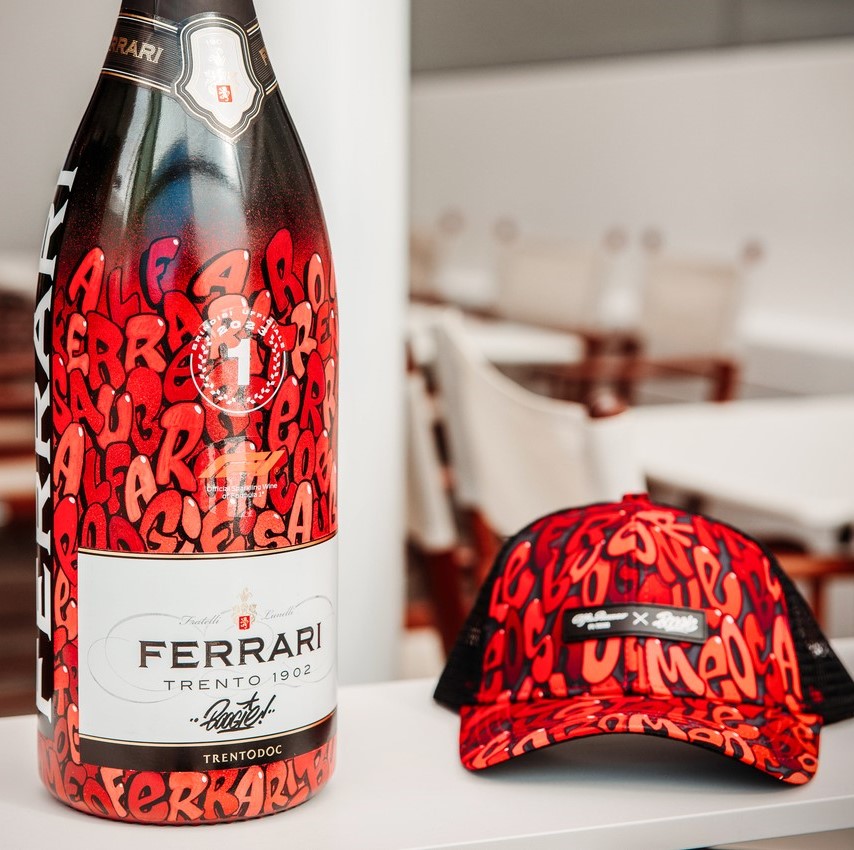 A Ferrari Trento F1® Podium Jeroboam bottle customised by the artist BOOGIE will be auctioned on the 23rd of August on F1® Authentics in an auction dedicated to the collaboration between Alfa Romeo F1 Team Stake and the famous graffiti artist BOOGIE.
Precisely on the occasion of the FORMULA 1 HEINEKEN DUTCH GRAND PRIX 2023, Alfa Romeo F1 Team Stake will launch this special online auction on F1® Authentics, the official Formula 1® website dedicated to memorabilia auctions, where unique pieces, transformed on this occasion into works of art by BOOGIE, will be auctioned.
The kick-off to the auction, which will remain online until the 27th of August, will take place inside Alfa Romeo's hospitality area where Boogie, in the presence of press and VIPs, will 'live' finish two works on canvas inspired by team drivers Valtteri Bottas and Zhou Guanyu.
In addition to these two works of art, the Alfa Romeo F1 Team Stake single-seater customised by BOOGIE, a driver's set both created in collaboration with the artist, as well as a hand-painted Ferrari F1® Podium Jeroboam donated by Ferrari Trento, Official Toast of Formula 1®, will also be auctioned. All proceeds will be donated to the team's charity partner Save the Children.
BOOGIE's original project for Alfa Romeo F1 Team Stake aims to be an example of style and inclusion, bringing together people from all over the world to celebrate the beauty of art and the thrill of racing.
By taking part in this initiative, Ferrari Trento confirms its well-established relationship with the Alfa Romeo F1 Team Stake, with which it already collaborates as a sparkling wine partner in all official events, where the Team has chosen to offer typically Italian hospitality, thus also recalling the soul of Alfa Romeo, an iconic brand in our automotive history.
Ferrari F1® Podium Jeroboam is the limited edition that Ferrari Trento has dedicated to the collaboration with Formula 1®, the three-liter bottle that is uncorked by the winners on the podium every Grand Prix™ and produced in very few examples for collectors and enthusiasts; a Trentodoc Blanc de Blancs that matures for at least 48 months on its lees, thus enhancing the characteristics of the mountain sparkling wine, capable of giving great freshness and important aromatic complexity.

Ferrari Trento promotes a culture of drinking responsibly which is part of the Italian Art of Living.
It is a culture linked to the ritual nature of food and the celebration of convivial occasions, in which consumption is moderate and informed.
Enter the ferraritrento.com website only if you share this approach and if you are of the legal age to drink alcohol in your country: a world of excellence awaits you!
Access to the site was denied because you are not of legal age to drink alcohol.