Ferrari Trento at Silverstone Grand Prix Ball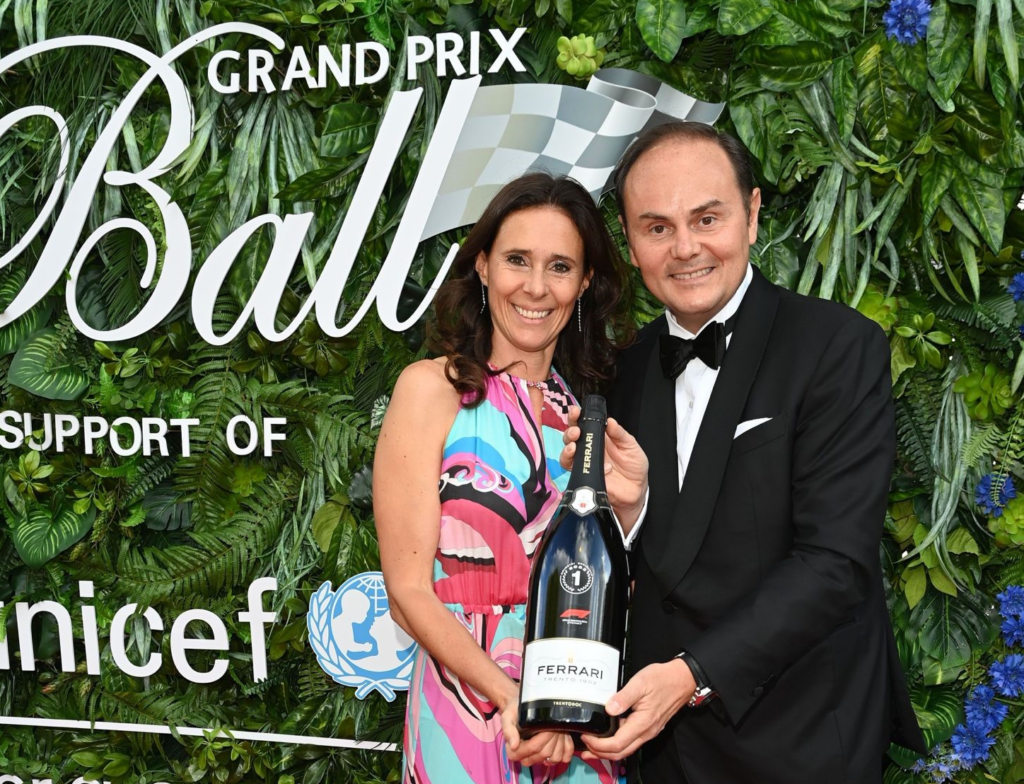 With FORMULA 1 ARAMCO BRITISH GRAND PRIX 2023 starting tomorrow – we are gearing up to one of the most exciting races on the Formula 1® calendar! Camilla and Matteo Lunelli started off the race weekend by attending the annual Grand Prix Ball on the 5th of July! The Grand Prix Ball 2023 welcomed motor racing heroes, sporting stars and celebrities to raise money for UNICEF, the humanitarian charity and the world's leading organisation that works to build a better world for children.
This auction raised £200,000 for UNICEF which included a guest winning a Ferrari Trento Jeroboam signed by Louis Hamilton!
The Jeroboam was included in the Ultimate Formula 1 package including the below which went for £17,500:
A private Silverstone museum hire with David Croft with Champagne reception for 40 people
Attend the Grand Prix on Sunday for 2 people
A private tour of the McLaren factory for 4 people
Use of a reborn Austin Healey
And finally the Louis Hamilton signed Ferrari Trento Jeroboam
Ferrari Trento, the Official Toast of the F1, was present on all of the VIP tables and was poured as an aperitif for all guests. The wine will continue to flow tonight at an exclusive party hosted by Ferrari Trento at the Bulgari Hotel and then through the race track this weekend.
"We are delighted to be back at the Silverstone Grand Prix. Energy and expectations are always high for such a prestigious race and Ferrari Trento is excited to help Silverstone sparkle this year" says Ferrari Trento President and CEO Matteo Lunelli.

Ferrari Trento promotes a culture of drinking responsibly which is part of the Italian Art of Living.
It is a culture linked to the ritual nature of food and the celebration of convivial occasions, in which consumption is moderate and informed.
Enter the ferraritrento.com website only if you share this approach and if you are of the legal age to drink alcohol in your country: a world of excellence awaits you!
Access to the site was denied because you are not of legal age to drink alcohol.