Ferrari Trento is one of the "Best Managed Companies" for Deloitte Private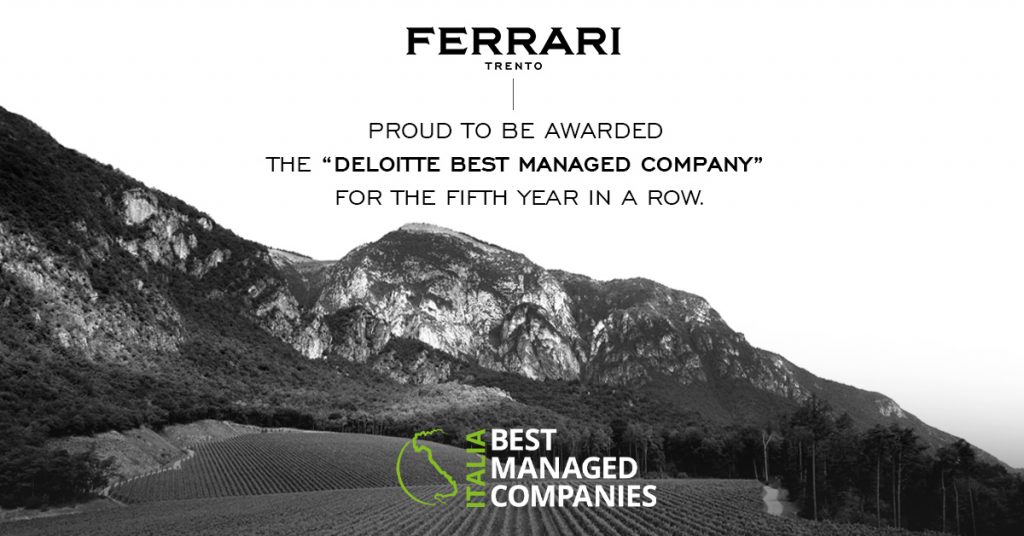 Once again in 2022, Ferrari Trento is one of the winning companies in the Italian edition of the "Deloitte Best Managed Companies Award" (BMC), the prize created by Deloitte Private to support and reward Italy's outstanding businesses.
An independent jury, composed of authoritative exponents from Italy's academic and institutional worlds, analysed the profiles of the candidate companies based on their level of performance, their ability to seek excellence in every aspect of business management, as well as their capacity to seize the opportunities deriving from the National Recovery and Resilience Plan  (NRRP) and develop a production chain-based ecosystem.
«We are particularly proud of this accolade, received in the year of Ferrari Trento's 120th anniversary, which demonstrates the extent to which the quest for excellence in every detail and a corporate vision based on social and environmental responsibility are rewarding. I would like to dedicate this award to the whole of the team at Ferrari Family, without whom we could not have achieved these results and carry on pursuing that dream which, 120 years ago, led Giulio Ferrari to see Trentino as a promised land for producing extraordinary sparkling wines", comments Matteo Lunelli, President and Chief Executive Officer of Ferrari Trento.
«Ferrari Trento has won our prize once again this year, thus becoming one of our "Gold" companies, i.e., a winner in all the editions of the BMC Award », comments the head of Deloitte Private Ernesto Lanzillo. «Ferrari Trento confirms itself as an outstanding and dynamic business, capable of holding its own in a complex and volatile international context». «Congratulations to Ferrari Trento for this important award»  adds Andrea Restelli, a Partner in Deloitte and in charge of the BMC Award for Italy.
The Awards Ceremony took place on Tuesday 4th October in Milan, at Palazzo Mezzanotte, the site of the Italian Stock Exchange.

Ferrari Trento promotes a culture of drinking responsibly which is part of the Italian Art of Living.
It is a culture linked to the ritual nature of food and the celebration of convivial occasions, in which consumption is moderate and informed.
Enter the ferraritrento.com website only if you share this approach and if you are of the legal age to drink alcohol in your country: a world of excellence awaits you!
Access to the site was denied because you are not of legal age to drink alcohol.