Ferrari Trento will be one of the protagonists of the first edition of "Festival Trentodoc"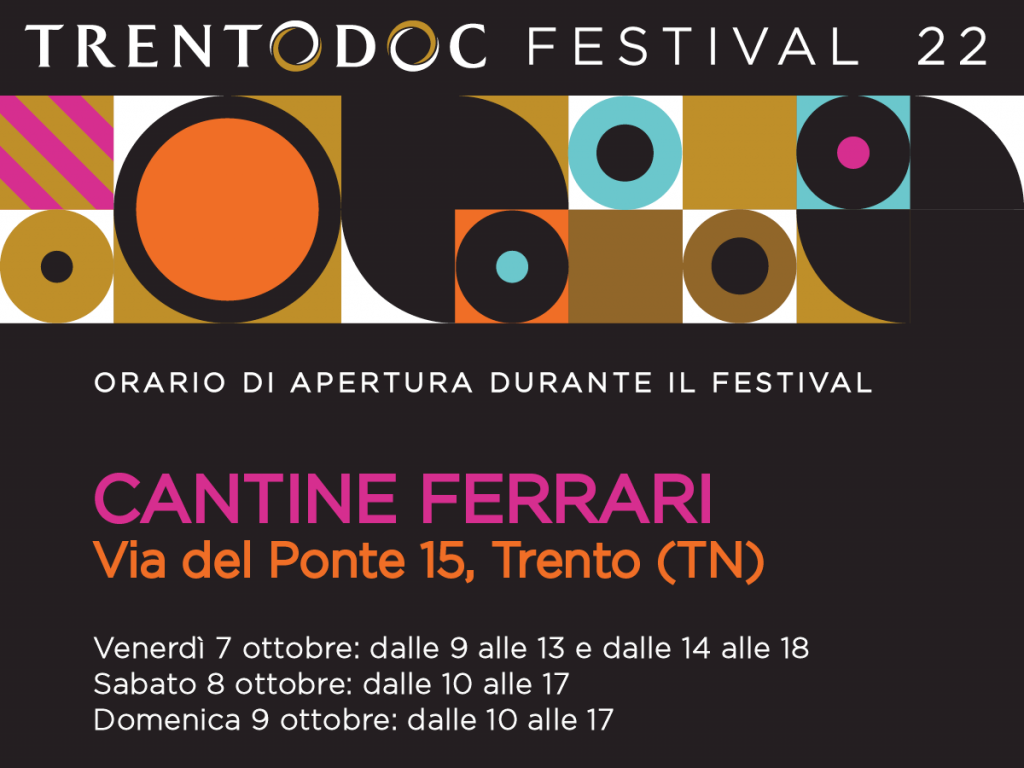 From 7th to 9th October, the curtain will rise on the first edition of "Festival Trentodoc": three days of events revealing the qualities of Trentodoc sparkling wines, of which Ferrari Trento is one of the outstanding exponents.
There will be tastings, winery tours, and meetings throughout Trento, which – for this special occasion – are also being held in historic buildings and other atmospheric locations in the city.
The Festival, orchestrated by Luciano Ferraro, deputy editor of the Corriere della Sera newspaper, is designed to highlight an area – the Dolomites, a UNESCO World Heritage Site – as well as the experience and skill of the wineries (of which there are now sixty-four) in creating unique bubblies that are also an expression of the mountainsides on which the Chardonnay and Pinot Nero grapes are grown.
As one of the founding producers and promoters of what is the first D.O.C. in Italy assigned specifically to a Metodo Classico wine, Ferrari Trento will be present in Palazzo Ocse on 7th October at 11.30 a.m. for a tasting titled  "Sparkling wines in Magnums: the grandeur of these bottles and how they enhance Trentodoc" and on 9th October at 3.00 p.m. in Palazzo Bortolazzi for "What happens next: maturation and long sojourns on the lees", another fascinating experience conducted by Stefano Berzi, Italy's Best Sommelier of 2021 for the AIS association.
Above all, also on 9th October, at  11 a.m. and 3 p.m., Ferrari Trento is organising a special tour that takes visitors on A Voyage through Beauty and Excellence, an extraordinary experience that the company promotes all over the world.
This visit begins in the underground cellars, where millions of bottles repose in darkness and silence,  waiting for the perfect moment to be revealed. It then transfers – climbing through the vineyards – to the wonderful Villa Margon, a Renaissance residence that is now the headquarters of  Gruppo Lunelli, which the family has restored to its ancient sixteenth-century splendour and where it recently celebrated the 120th anniversary of Ferrari Trento.
Here, in its frescoed rooms that show the long-standing tradition that links this area with vine-growing, four of the producer's finest Trentodoc wines will be offered: Ferrari Perlé, Ferrari Perlé Zero, Ferrari Riserva Lunelli and Giulio Ferrari Riserva del Fondatore. An opportunity that should not be missed!

Ferrari Trento promotes a culture of drinking responsibly which is part of the Italian Art of Living.
It is a culture linked to the ritual nature of food and the celebration of convivial occasions, in which consumption is moderate and informed.
Enter the ferraritrento.com website only if you share this approach and if you are of the legal age to drink alcohol in your country: a world of excellence awaits you!
Access to the site was denied because you are not of legal age to drink alcohol.