Ferrari Trento is once again the toast of The World's 50 Best Restaurants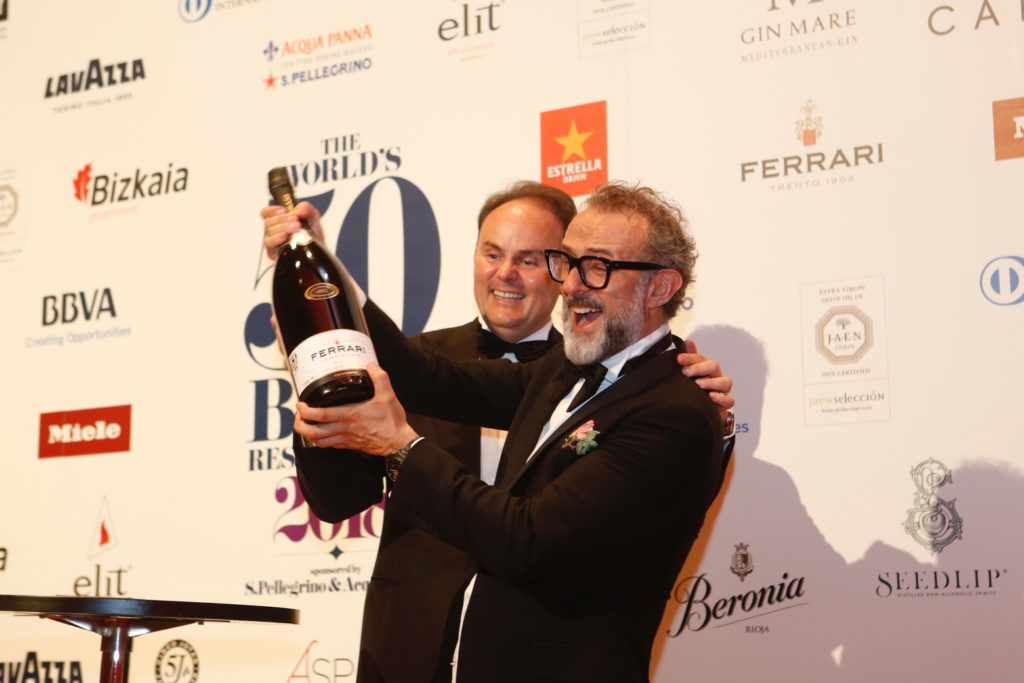 Ferrari Trento reaffirms its strong bond with the international high-end cuisine by once again being the toast of the The World's 50 Best Restaurants.
On June 19 in Bilbao, Massimo Bottura from Osteria Francescana seized back the throne that he had vacated – only temporarily – one year ago, celebrating his success with Ferrari Trentodoc.
The awards ceremony gathered a thousand of the most influential people in the global restaurant industry and, through a live web-streaming, it was followed worldwide by a global audience. During the event, a special prize, the Ferrari Trento Art of Hospitality Award, was handed to the restaurant that excelled at turning a meal into an unforgettable experience through its front of house, service, and setting.
The winner is Geranium (Copenhagen), the 19th restaurant listed in the general ranking. This restaurant combines the creative cuisine offered by Rasmus Kofoed with the innovative approach in the dining room developed by Søren Ledet, manager and co-owner of the restaurant.
The combination of Kofoed's delicate and beautiful cuisine with Ledet's expert lead in the dining room and the cellar results in an experience that is warm and spontaneously relaxed, able to make guests feel naturally at ease that they forget what is going on around them – a worthy winner of the Ferrari Trento Art of Hospitality Award 2018.
In March, during the Identità Golose international cuisine congress, Ferrari Trento had gathered on a stage in Milan the three best restaurateurs in the World according to the 2017 The World's 50 Best Restaurant. Josep Roca, (El Celler de Can Roca, Girona, number 2 in 2018 edition), Will Guidara (Eleven Madison Park, New York, 4th position this year), and Massimo Bottura (Osteria Francescana, Modena) were asked to address the topic of hospitality. The trio engaged a lively discussion providing precious input to the initiative promoted by Ferrari Trento over the last few years to enhance the fundamental role played by hospitality in the success of a restaurant.
The concept of hospitality is in line with the values of Ferrari Trento: offering a glass of bubbles is a welcoming gesture, and lifting a glass for a toast represents the nature of conviviality.
Hospitality plays a pivotal role in Italian culture that is proudly heralded by Ferrari Trento as ambassador of the Italian Art of Living throughout world.

Ferrari Trento promotes a culture of drinking responsibly which is part of the Italian Art of Living.
It is a culture linked to the ritual nature of food and the celebration of convivial occasions, in which consumption is moderate and informed.
Enter the ferraritrento.com website only if you share this approach and if you are of the legal age to drink alcohol in your country: a world of excellence awaits you!
Access to the site was denied because you are not of legal age to drink alcohol.