Ferrari Trento triumphs at The Champagne & Sparkling Wine World Championships: it is the "2021 Sparkling Wine Producer of the Year"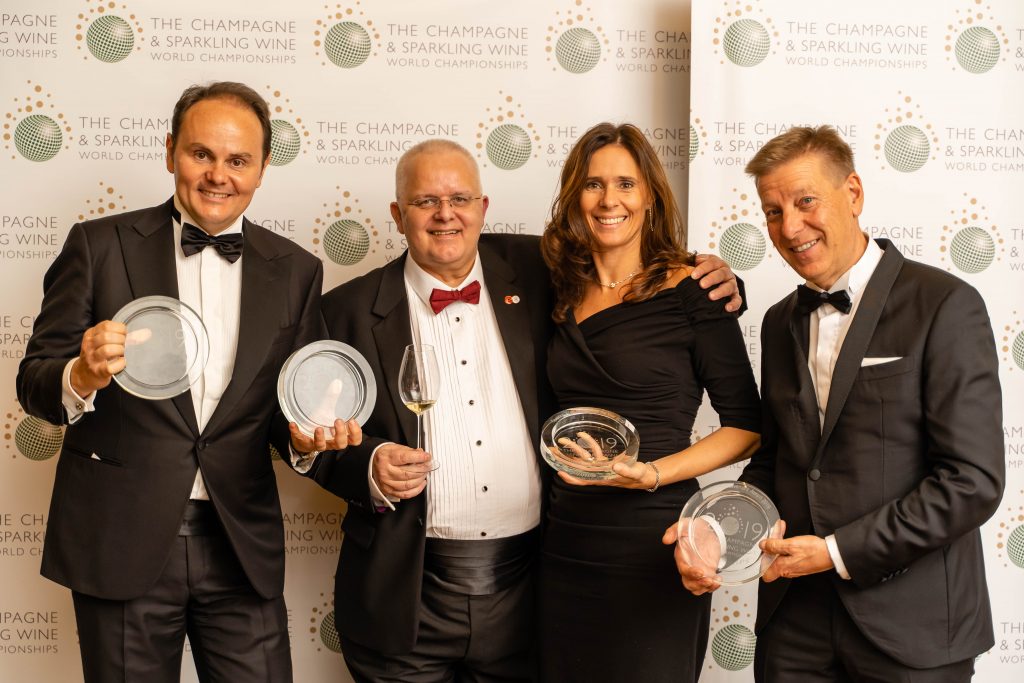 With 12 Gold Medals, the Lunelli Group's winery contributes to Italy being the most awarded at the most important international competition devoted to sparkling wines
The Champagne & Sparkling Wine World Championships, the competition created and presided over by Tom Stevenson, the world's leading expert on sparkling wines, has revealed its Gold and Silver Medals for the 2021 edition, which place Ferrari Trento at the summit of "the world of bubblies" for the fourth time.
With 12 Gold Medals and 8 Silvers, Ferrari Trento has not only won the title of "Sparkling Wine Producer of the Year", but the company was also decisive in confirming Trentodoc as the Italian denomination with the most awards and in decreeing the symbolic victory of Italy over France, with 58 Gold Medals as against France's 52. Once again this year, there was a two-horse race for the title of Producer of the Year – awarded to the winery with the largest number of medals – against last year's winner, the Maison de Champagne Louis Roederer, which earned a total of 7 Gold Medals and 4 Silvers.
Tom Stevenson founder of Champagne Sparkling Wine World Championships commented "Congratulations to Ferrari on achieving Sparkling Wine Producer of the Year 2021, a fabulous accolade for a fabulous producer."
Ferrari won Gold Medals not only with its great Riservas, but also its nonvintage Trentodocs like Ferrari Brut, the Trento-based winery's most iconic product – previously judged "Blanc de Blancs World Champion" in 2016 and "Best Italian Sparkling Wine" in 2020 – and Ferrari Maximum, both in its Blanc de Blancs and Rosé versions. This confirms yet again the extraordinary vocation of the mountains of Trentino for creating world-class sparkling wines, as well as Ferrari's ability to express an extremely high level of quality throughout its range.
There were over a thousand different wines presented and tasted at The Champagne & Sparkling Wine World Championships, coming from all over the world (including, for the first time, Japan). No less than 19 countries won at least one medal, in line with the competition's mission to promote wines of excellence and discover emerging regions and producers all over the world.
We are now looking forward to the "Virtual Ceremony Awards Week", that of 22nd November, in which – once again this year, only online – the special awards will be revealed, such as those for the various "Best in Class" categories, the national winners, and the World Champions in each Style.

Ferrari Trento promotes a culture of drinking responsibly which is part of the Italian Art of Living.
It is a culture linked to the ritual nature of food and the celebration of convivial occasions, in which consumption is moderate and informed.
Enter the ferraritrento.com website only if you share this approach and if you are of the legal age to drink alcohol in your country: a world of excellence awaits you!
Access to the site was denied because you are not of legal age to drink alcohol.