Ferrari Trento triumphs for the Fifth Time at the Sparkling Wine World Championships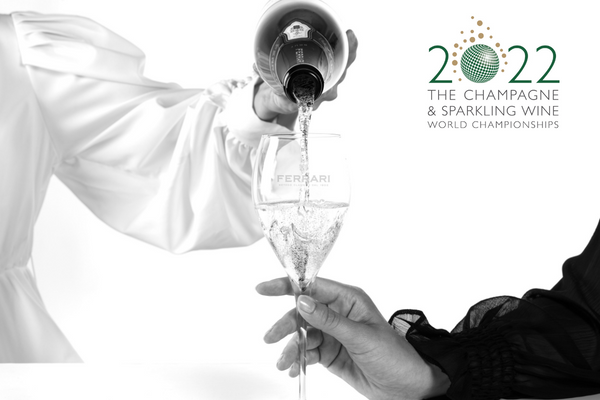 In the year of the 120th anniversary of its foundation, Gruppo Lunelli's winery once again wins the title of "Sparkling Wine Producer of the Year" in the most important international competition devoted to sparkling wines
Ferrari Trento has triumphed as "Producer of the Year" at The Champagne & Sparkling Wine World Championships, the competition created and presided over by Tom Stevenson, the world's leading expert on sparkling wines, who has made this challenge into the sector's most authoritative competition on a global scale.
The title of "Sparkling Wine Producer of the Year" is assigned to the winery that obtains the largest number of medals. In the 2022 edition, Ferrari Trento dominated the field with 11 Golds and contributed in a fundamental manner to the success of Trentodoc – and of Italian sparklers in general – in a competition that judges more than 1,000 wines each year, produced in over 30 countries.
"Many producers enter the competition each year with more wines than Ferrari Trento does; one, this year, participated with twice as many products. So, it is not just a question of numbers: we are talking about the strength and consistent quality that those numbers demonstrate," was Tom Stevenson's comment on this fifth success for Ferrari Trento.
"This result is particularly important for us because it rewards the breadth and excellence of the whole of our range and the consistent quality which, thanks to meticulous supervision during every phase of production, we manage to maintain year in and year out in all our Trentodoc wines, from the non-vintage ones to the special reserves," declared Matteo Lunelli, President of Ferrari Trento.
Among the wines that were awarded Gold Medals there were also some non-vintage Trentodocs produced in significant numbers of bottles, such as the historic Ferrari Brut and the Ferrari Maximum Blanc de Blancs.
The award will be presented during the traditional ceremony – finally with everyone attending once again in person – that will take place in London on 3rd November in the magnificent setting of Merchant Taylors' Hall.
Ferrari is celebrating this prestigious title in the year of the 120th anniversary of its foundation, placing Trentodoc in the pantheon of world winemaking and demonstrating once again the extraordinary potential of the region's terroir for producing outstanding sparkling wines.
Trento, 16th September 2022

Ferrari Trento promotes a culture of drinking responsibly which is part of the Italian Art of Living.
It is a culture linked to the ritual nature of food and the celebration of convivial occasions, in which consumption is moderate and informed.
Enter the ferraritrento.com website only if you share this approach and if you are of the legal age to drink alcohol in your country: a world of excellence awaits you!
Access to the site was denied because you are not of legal age to drink alcohol.