Great success for Ferrari Trento at "The Champagne & Sparkling Wine World Championships 2019"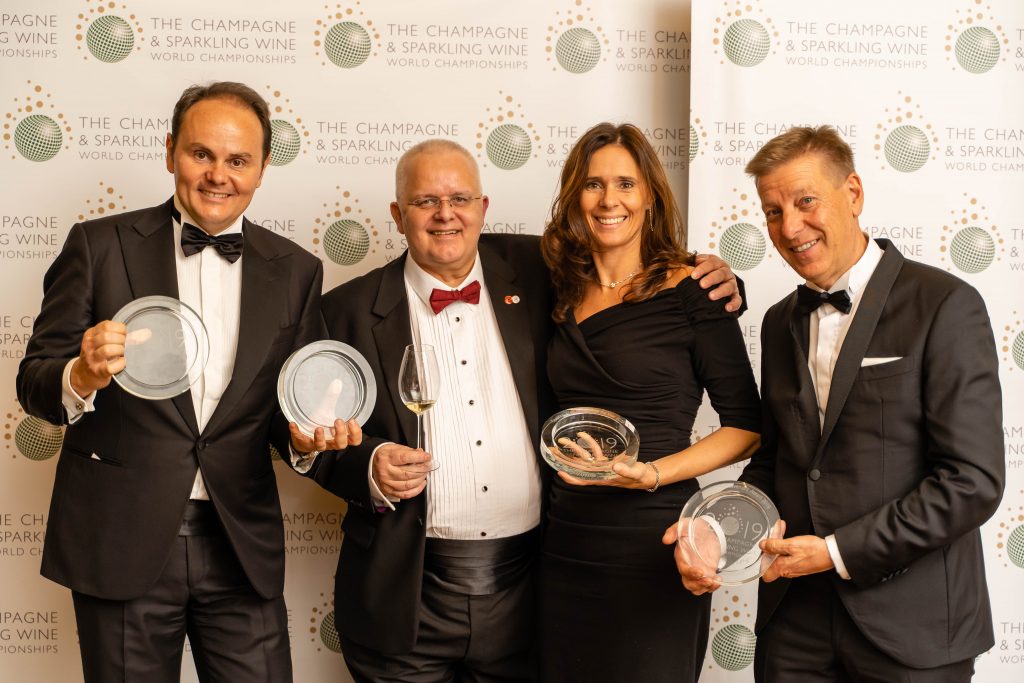 The awards ceremony of The Champagne & Sparkling Wine World Championships, held at the Merchant Taylors' Hall in London on 4th November was a moment of great pride and emotion for Ferrari Trento.
As  announced in advance a few months ago, the most important international competition devoted to the world of sparkling wines celebrated Ferrari as "Sparkling Wine Producer of the Year 2019" , thanks to the incredible number of Gold Medals (no less than 15) obtained by an equal number of the Company's Trentodocs.
During the course of the evening, this prestigious accolade was joined by other outstanding results: the Ferrari Perlé Rosé Riserva 2013 was named World Champion in the Rosé category and the Ferrari Perlé Nero Riserva 2010 in the Blanc de Noirs category, crowning more than forty years' work with Pinot Nero from mountainside vineyards.
Also, Ruben Larentis, Ferrari Trento Chef de Cave and Technical Director, received the "Lifetime Achievement Award", paying tribute to the remarkable work he has been carrying out in the winery for over thirty years.
Sixty years old and from Trentino, Ruben Larentis graduated from the Institute of Agriculture in San Michele all'Adige and joined Ferrari Trento in 1986. He succeeded in taking over from a great master, Mauro Lunelli, who was Ferrari's head winemaker for almost forty years, and, alongside Vice-President Marcello Lunelli, Laurentis has created a number of unique and
highly prestigious wines. It is no accident that in 2010 he was named "Winemaker of the Year" by Gambero Rosso.
«This award» comments Ruben Larentis «is particularly significant for me both because of its international scope and because it goes hand in hand with an extraordinary result for the wines to which I have dedicated myself, body and soul, for 34 vintages now. It rewards a way of working that always strives for excellence and a team that stands out thanks to its passion, capability and winemaking culture. My gratitude goes especially to the team that is by my side, day in and day out. I dedicate this prize to my wife and my mother: this is my way of thanking them for their silent presence».
The Champagne & Sparkling Wine World Championships owes its importance and prestige above all to the authoritativeness of its founder, Tom Stevenson. Stevenson is the author of Christie's World Encyclopaedia of Champagne & Sparkling Wine, of which the fourth edition has just been published. This book is produced with the precious support of Essi Avellan, who is also a great expert on bubbly wines and a member of the jury for The Champagne & Sparkling Wine World Championships.
These results confirm yet again the growing importance of Italian sparkling wines in the panorama of world winemaking and the outstanding role played by Ferrari Trento, based on a tradition dating back more than a century, a superb terroir for growing grapes and the dedication and passion of a well-knit team that is capable of demonstrating great talents.

Ferrari Trento promotes a culture of drinking responsibly which is part of the Italian Art of Living.
It is a culture linked to the ritual nature of food and the celebration of convivial occasions, in which consumption is moderate and informed.
Enter the ferraritrento.com website only if you share this approach and if you are of the legal age to drink alcohol in your country: a world of excellence awaits you!
Access to the site was denied because you are not of legal age to drink alcohol.