The second vintage of Giulio Ferrari Rosé is being launched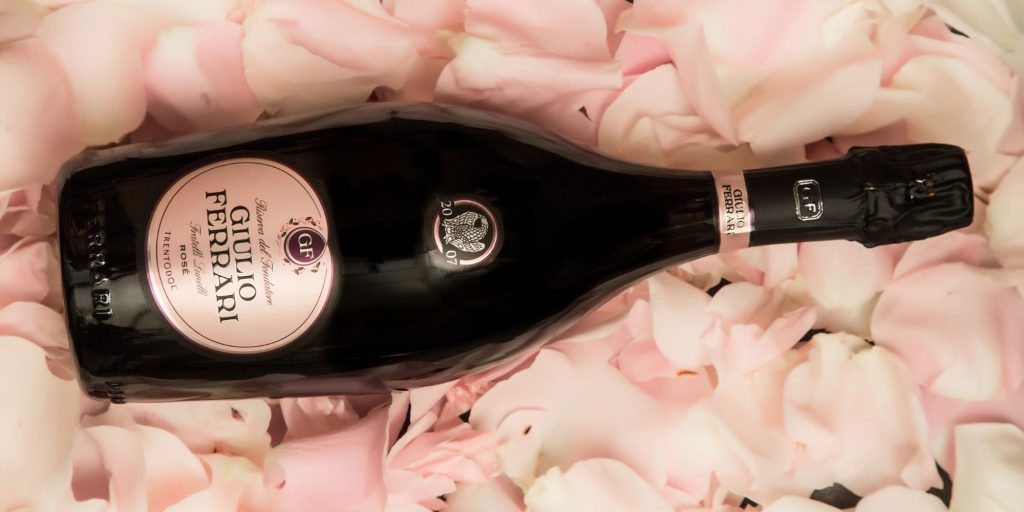 A year has already passed since the unforgettable debut of Giulio Ferrari Rosé at Villa Margon, the Lunelli Group's sixteenth century hospitality centre in the midst of the Ferrari vineyards, just outside Trento.
It was the 24th September 2018 when the Lunelli family proudly revealed the rosé version of what, over the years, has established itself as Italy's most award-winning sparkling wine: "Giulio Ferrari". Since then the 2006 Giulio Ferrari Rosé has obtained enormous success, both in the marketplace and from critics, receiving top ratings in wine guides in its homeland and abroad, as well as becoming the iconic rosé sparkler from Italy. Wine Advocate, giving it a score of 98/100 – never awarded before to an Italian bubbly, and rarely even to a Champagne – defined Giulio Ferrari Rosé as a "game changer".
Now the 2007 is being launched: another vintage of supreme quality which, thanks to a mild winter and a cool August, allowed good levels of acidity to be maintained in the grapes and extremely interesting aromas to evolve.
Indeed, it is only the very best years that become – after a strict selection of the grapes in the Lunelli family's own highest vineyards – Giulio Ferrari Rosé, a Trentodoc of vibrant intensity that offers a perfect synthesis of the character of Pinot Nero and the elegance of Chardonnay from mountainside vineyards.
This intensity can be perceived even in the colour, which is reminiscent of salmon pink, with copper-like tinges, and from the dense perlage, with bubbles that rise slowly to the surface, almost as if to highlight the wine's great concentration and its maturation for over 10 years in the darkness and silence of the cellar.
The nose amazes one with the complexity of its aromas, which initially offer hints of red and citrus fruits that then evolve into spicy fragrances of fennel and cardamom and finally give way to notes of caramel-covered nougat and bran. On the palate, it displays all of its richness and powerful elegance before closing with an extremely long and very clean finish, perfectly balanced between structure and refinement.
The 2007 Giulio Ferrari Rosé once again confirms itself to be the maximum expression of a mountain Pinot Nero, and the result of the obsession with excellence that has guided every choice made by Cantine Ferrari for over a century.

Ferrari Trento promotes a culture of drinking responsibly which is part of the Italian Art of Living.
It is a culture linked to the ritual nature of food and the celebration of convivial occasions, in which consumption is moderate and informed.
Enter the ferraritrento.com website only if you share this approach and if you are of the legal age to drink alcohol in your country: a world of excellence awaits you!
Access to the site was denied because you are not of legal age to drink alcohol.