Matteo Lunelli is the new President of Altagamma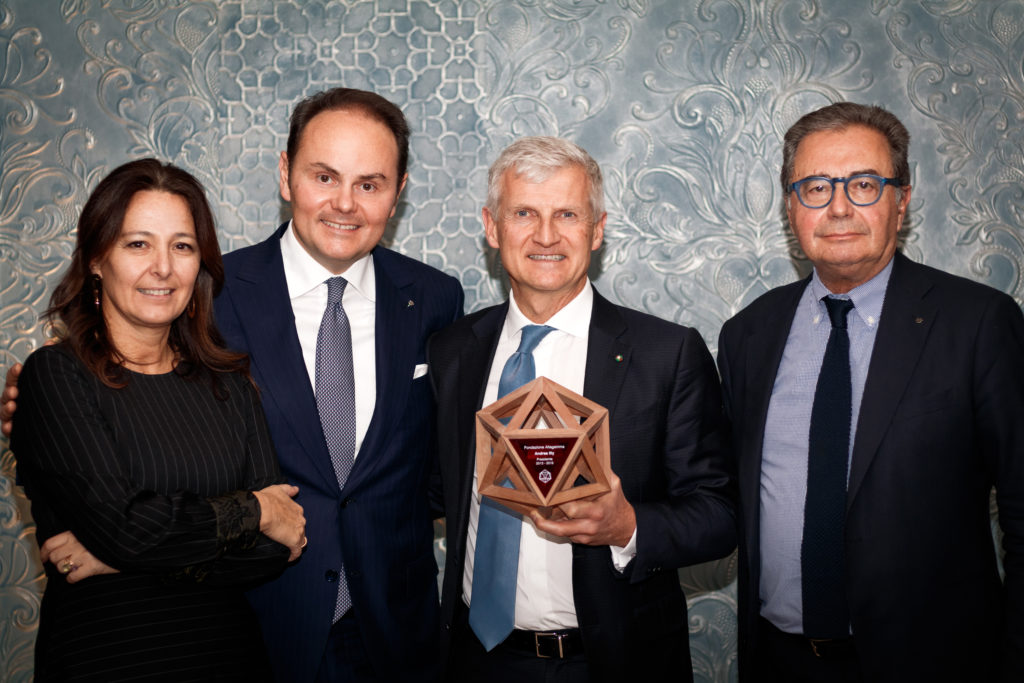 Elected unanimously, the President of Ferrari Trento will guide the Foundation that groups together Italy's outstanding brands for the period 2020-2022
Ferrari Trento has always been an icon of the Italian Art of Living and its Trentodoc sparkling wines have accompanied the most important moments of culture, fashion and design. For this reason, Ferrari Trento is one of the founding members of Altagamma, the foundation that gathers Italy's leading high-end cultural and creative companies, which are recognised as ambassadors for Italian style around the world and operate in fashion, design, jewellery, food, hospitality, automotive and yachts.
From Gucci to Zegna in fashion, from Ferrari cars to Lamborghini in automotive, Benetti and Riva in yachting as well as Kartell and Poltrona Frau in design and some of the most beautiful and exclusive Italian hotels in hospitality, Altagamma includes 110 outstanding brands which have an amazing heritage and a cumulative history of over 9,000 years. Top of the range products represent an industry worth 115 billion euros and contribute 6.85% to Italy's GDP with an export that account for 53% of output and 402,000 direct and indirect employees.
Previously Vice President of the Altagamma Foundation responsible for the Food & Wine sector, Matteo Lunelli – President and CEO of Ferrari Trento – was put forward by Founding President Santo Versace, Honorary President Leonardo Ferragamo and Past President Claudio Luti, and on December 13 he was unanimously elected new President of the Foundation by the Members' Assembly. He takes over from Andrea Illy, President of Illycaffé, and will remain in office for the next three years.
Matteo Lunelli has confirmed the mission of the Altagamma Foundation: "to contribute to the growth and competitiveness of the high-end industry and, indirectly, to Italian economy as a whole". The market scenario, though, has undergone some dramatic changes and there is now a need to respond to new demands that affect all the industries in which the Foundation operates.
"The concept of 'Made in Italy'", declared Matteo Lunelli, "continues to have an extraordinary evocative power, linked as it is to our territories, out traditions, our know-how and our lifestyle. Nevertheless, the prevailing macroeconomic conditions will require Altagamma's members to succeed in satisfying the needs of new consumers who will increasingly be Asian, young, digitally savvy and heedful of the values that the individual brand represents. An international scope, sustainability and a contemporary outlook are, therefore, the three strategic pillars that will inspire our activities over the next three years".
Matteo Lunelli will work with a high-profile presidential team. Alongside the confirmation of Claudio Luti (President, Kartell) as Vice President for Design, Lamberto Tacoli (President and CEO, Perini Navi) as Vice President for the Nautical Industry and Paolo Zegna (President, Ermenegildo Zegna), nominated Vice President for Fashion – there are the new entries Sabina Belli (CEO, Pomellato) as Vice President for Jewellery, Stefano Domenicali (President and CEO, Lamborghini) as Vice President for the Automotive Industry, Giovanni Geddes da Filicaja (CEO, Frescobaldi Group) as Vice President for Food & Wine, and Aldo Melpignano (Managing Director, San Domenico Hotels) as Vice President for the area of Hospitality. Two Vice Presidencies with wide-ranging responsibilities will also be introduced: one for Internationalisation, entrusted to Dario Rinero (CEO, Poltrona Frau Group), and one for Talents and Human Capital, given to Laudomia Pucci (Vice President and Image Director, Emilio Pucci). Moreover, Founding President Santo Versace, Honorary President Leonardo Ferragamo and Past President Andrea Illy will be invited permanently to join the Board of Directors.
Other members of the Board will be: Nerio Alessandri (President and CEO, Technogym), Marco Bizzari (President and CEO, Gucci), Serge Brunschwig (President and CEO, Fendi), Edoardo Caovilla (Co-Owner and Creative Director, René Caovilla), Fabio d'Angelantonio (CEO, Loro Piana), Carlotta de Bevilacqua (Vice President and CEO, Artemide, and President, Danese Milano), Claudio Domenicali (CEO, Ducati), Giuseppe Fontana (President, Villa d'Este), Roberto Gavazzi (CEO, Boffi), Bob Kunze-Concewitz (CEO, Campari Group), Carlo Mazzi (President, Prada S.p.A.), Carmen Moretti (CEO, L'Albereta and L'Andana), Maria Porro (Head of Marketing and Communication, Porro), Giuseppe Prezioso (CEO, Imax – Max Mara Fashion Group), Aurelio Regina (Executive Vice President, Manifatture Sigaro Toscano), Riccardo Sciutto (CEO, Sergio Rossi), Giovanni Tamburi (President and CEO, Tamburi Investment Partners), Giovanna Vitelli (Vice President, Azimut Benetti Group), and Maurizio Zanella (President, Ca' del Bosco).

Ferrari Trento promotes a culture of drinking responsibly which is part of the Italian Art of Living.
It is a culture linked to the ritual nature of food and the celebration of convivial occasions, in which consumption is moderate and informed.
Enter the ferraritrento.com website only if you share this approach and if you are of the legal age to drink alcohol in your country: a world of excellence awaits you!
Access to the site was denied because you are not of legal age to drink alcohol.