Pizza and Sparkling Wines: a surprising combination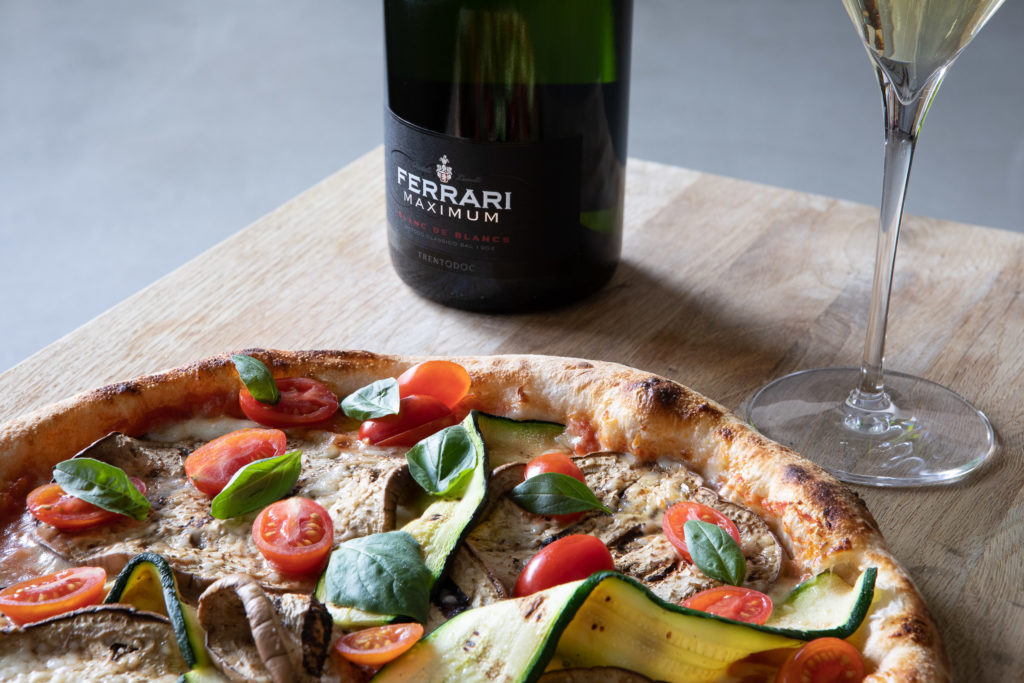 Have you ever tried pairing Pizza with a Sparkling Wine?
Now you can do it even at home, thanks to Ferrari Trento's partner pizzerias who have set up a home delivery service, or by transforming yourselves into skilled pizzaioli, using high-quality ingredients and combining your pizza with Ferrari's Trentodoc wines.
Accompanying gourmet pizzas with sparkling wines is a fast-growing trend, and one that Ferrari Trento has endorsed for years. An excellent culinary product like pizza deserves, in fact, to be enhanced by being matched with a top-quality sparkling wine, transforming this gastronomic experience into a real marriage of two icons of the Italian lifestyle.
Ferrari's extremely versatile Trentodoc sparkling wines make excellent foils for traditional pizzas and will surprise your taste buds when accompanying more innovative ones. Our advice is to try the Ferrari Maximum line: in particular, we suggest the Ferrari Maximum Blanc de Blancs, a 100% Chardonnay wine that will delight you with its freshness and fragrance and which, thanks to its tanginess, is perfect for counterbalancing the sweet notes of the pizza dough. Its lightness goes well with delicately flavoured ingredients such as mozzarella, vegetables, and olives.
The second label in the Maximum range that is ideal with pizza is the Ferrari Maximum Rosé, a rich, mouth-filling Trentodoc that is superb for enjoying with pizzas whose ingredients are more flavourful, such as Italian cold cuts, savoury cheeses, or seafood.
All you have to do now is try it out for yourselves!
Follow the hashtag #PizzaeBollicine on our social media channels to get even more inspiration and give yourselves the pleasure of a pizza in the comfort of your own home, ordering it from one of our partner establishments. Every one of them will offer you a tasty, perfect pizza to accompany Ferrari's Trentodoc sparkling wines, and will deliver them directly to your door.
Here is the list of Ferrari's #PizzaeBollicine restaurants:

Ferrari Trento promotes a culture of drinking responsibly which is part of the Italian Art of Living.
It is a culture linked to the ritual nature of food and the celebration of convivial occasions, in which consumption is moderate and informed.
Enter the ferraritrento.com website only if you share this approach and if you are of the legal age to drink alcohol in your country: a world of excellence awaits you!
Access to the site was denied because you are not of legal age to drink alcohol.