The chefs of Presidents, Princes and Queens together with Ferrari winery and Tenute Lunelli help the children of Haiti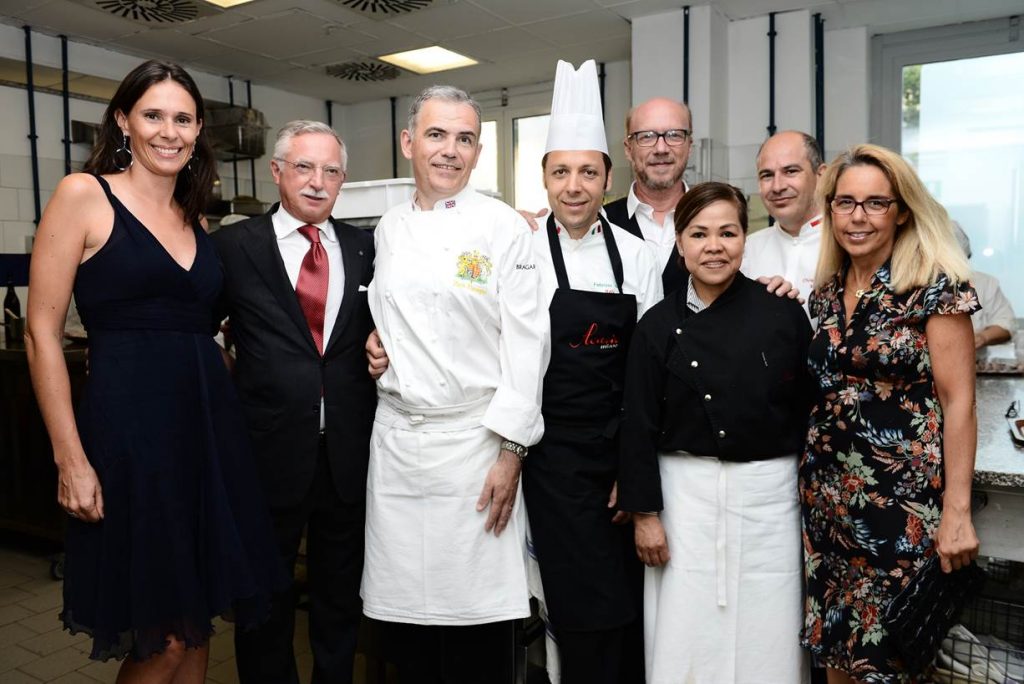 In a night completely devoted to haute cuisine and solidarity, a team of Michelin-starred chefs took turns behind the stove, with some of the most important "Chef Des Chefs" in the world in action: Cristeta Comerford – Chef to the President of the United States of America, Mark Flanagan – Chef to Her Majesty the Queen of the United Kingdom, Christian Garcia – Chef to His Serene Highness Prince Albert II of Monaco, Fabrizio Boca – Executive Chef to the President of the Italian Republic, official residence of the Italian President, and David Destinoble – Executive Chef at the Presidential Palace of Haiti.
Each chef prepared a traditional dish of his or her country, pairing it with an Italian wine selected among those produced in Trentino or Umbria by Tenute Lunelli and the Trentodoc sparkling wines provided by Ferrari winery.
The marinated tuna carpaccio prepared by Cristeta Comerford and the confit duck «Lafitte» foie gras and summer vegetables by Christian Garcia were paired with a Pietragrande 2014 Trentino Bianco DOC; David Destinoble's "Acquerello" rice with black "djon djon" mushrooms was accompanied by a Villa Margon 2013 Trentino Chardonnay DOC, while Mark Flanagan's English lamb chops coated with asparagus, black truffle and Madera sauce were matched with a Ziggurat 2010 Montefalco Rosso DOC, closing off with a Ferrari Perlé 2008 Trentodoc served in Magnum bottles to accompany the lemon delight and compote of red fruits prepared by Fabrizio Boca.
Special guest of the night was the two-time Oscar winner screenwriter Paul Haggis, who is also president of APJ and who have been working for a long time side by side with Fondazione Francesca Rava– NPH Italia and Father Rick Frechette, frontline physician and director of NPH Haiti, to bring education and hope to thousands of Haitian children.
The Club des Chefs des Chefs is a gastronomic society that gathers the personal chefs currently working for Heads of State, Kings or Queens and the executive chefs of the venues that host official State receptions. Influential positions that play an important role to promote the national cuisine of each country and demonstrate the importance of sharing during such sensitive times as those of political negotiation, which often loosen up around the dining table.

Ferrari Trento promotes a culture of drinking responsibly which is part of the Italian Art of Living.
It is a culture linked to the ritual nature of food and the celebration of convivial occasions, in which consumption is moderate and informed.
Enter the ferraritrento.com website only if you share this approach and if you are of the legal age to drink alcohol in your country: a world of excellence awaits you!
Access to the site was denied because you are not of legal age to drink alcohol.