Ushuaïa in Ibiza raises a toast with Ferrari to celebrate its fifth anniversary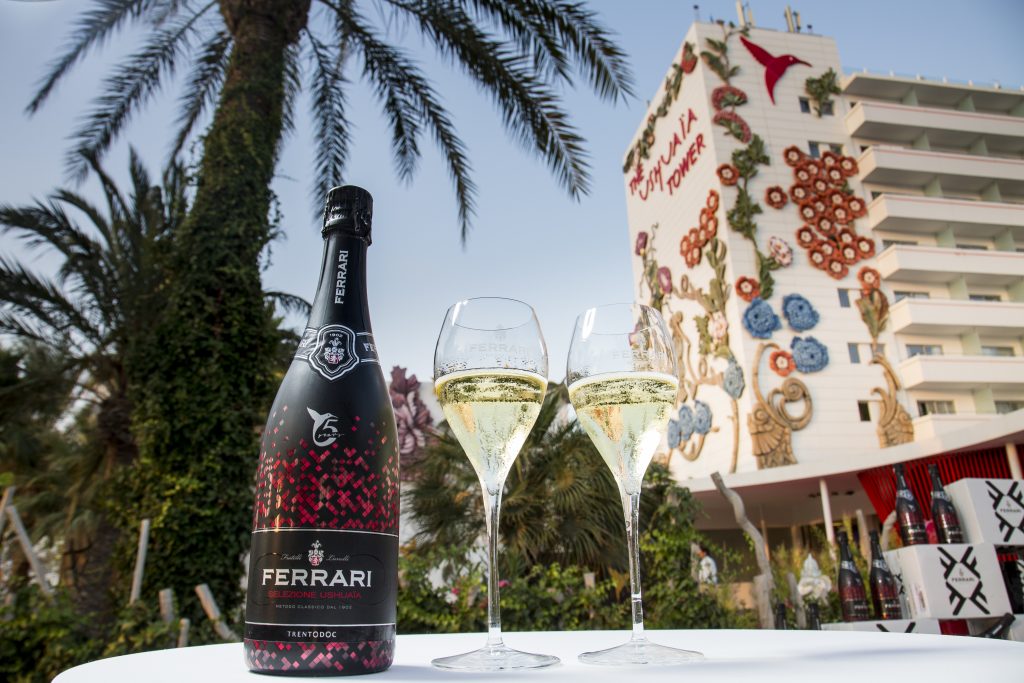 For this special occasion, the winery established in Trentino created a customised wine selection designed for nightlife lovers: Ferrari Selezione Ushuaïa, a 2008 vintage Trentodoc blanc des blancs. Its polished black bottle is covered with eye-catching red sparkling bubbles with a pixel effect and the five-year celebration logo of the club, which depicts a hummingbird, symbol of Ushuaïa.
In July, to launch Ferrari Selezione Ushuaïa and the beginning of a special partnership, Alfio Ghezzi  – Ferrari Executive Michelin-starred chef – was involved during three special nights in the preparation of an exclusive menu for the guests of Sir Rocco restaurant, which is located inside the Ushuaïa Beach Hotel. His menu represented a hymn to Italian cuisine, specially designed to fit Ferrari's Trentodoc.
Two nights were open to the public upon reservation, while the night on July 18 featured an exclusive dinner that saw the guests get personally welcomed by Matteo Lunelli – President of Ferrari winery – and the members of the Matutes family – owner of the Palladium Hotel Group, which owns also Ushuaïa.
A stylish launch for the sparkling wines produced by Ferrari winery and a wonderful opportunity to introduce The Italian Art of Living – one of the flagship elements of the identity of Ferrari – to the international island of Ibiza, where Ushuaïa represents an unparalleled point of reference in the entertainment industry.

Ferrari Trento promotes a culture of drinking responsibly which is part of the Italian Art of Living.
It is a culture linked to the ritual nature of food and the celebration of convivial occasions, in which consumption is moderate and informed.
Enter the ferraritrento.com website only if you share this approach and if you are of the legal age to drink alcohol in your country: a world of excellence awaits you!
Access to the site was denied because you are not of legal age to drink alcohol.