The Lunelli Family honored with the "Wine Family of the Year" prize at the Meininger Award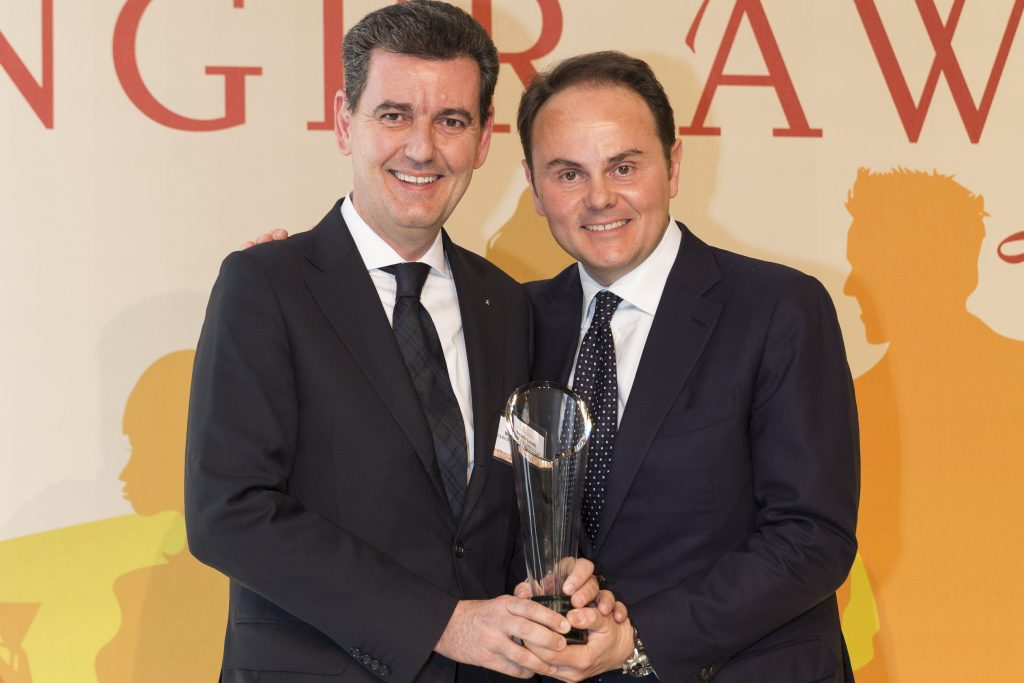 After conquering some of the most important international prizes such as the "Sparkling Wine Producer of the Year" at The Champagne and Sparkling Wine World Championships in London and the "European Winery of the Year" at the Wine Enthusiast Awards in New York, Ferrari Winery seizes a new success in Düsseldorf, Germany, where the Lunelli Family was named "Wine Family of the Year" during the Meininger Award "Excellence in Wine & Spirit".
The award-giving ceremony took place on the eve of the opening of Prowein, one of the most important exhibitions in the winemaking sector, during an event with more than 600 guests present, including several VIPs of the international wine industry. During the ceremony Matteo and Marcello Lunelli – respectively president and vice president of Ferrari winery – received the prestigious prize from the hands of Christoph and Andrea Meininger, main promoters of the initiative and owners of the publishing house Meininger Verlag.
The jury included several journalists working for the wine magazines of the German publishing house, such as "Weinwirtschaft", "Wine Business International", "Sommelier" and "Weinwelt". The jury's decision to bestow this award to the Lunelli Family was justified by "the ability of the Lunelli Family not only in preserving the heritage of their forefathers, but also for their skill in developing the business both nationally and internationally".

Ferrari Trento promotes a culture of drinking responsibly which is part of the Italian Art of Living.
It is a culture linked to the ritual nature of food and the celebration of convivial occasions, in which consumption is moderate and informed.
Enter the ferraritrento.com website only if you share this approach and if you are of the legal age to drink alcohol in your country: a world of excellence awaits you!
Access to the site was denied because you are not of legal age to drink alcohol.