"Traveling with Ferrari": the menu created by Nino di Costanzo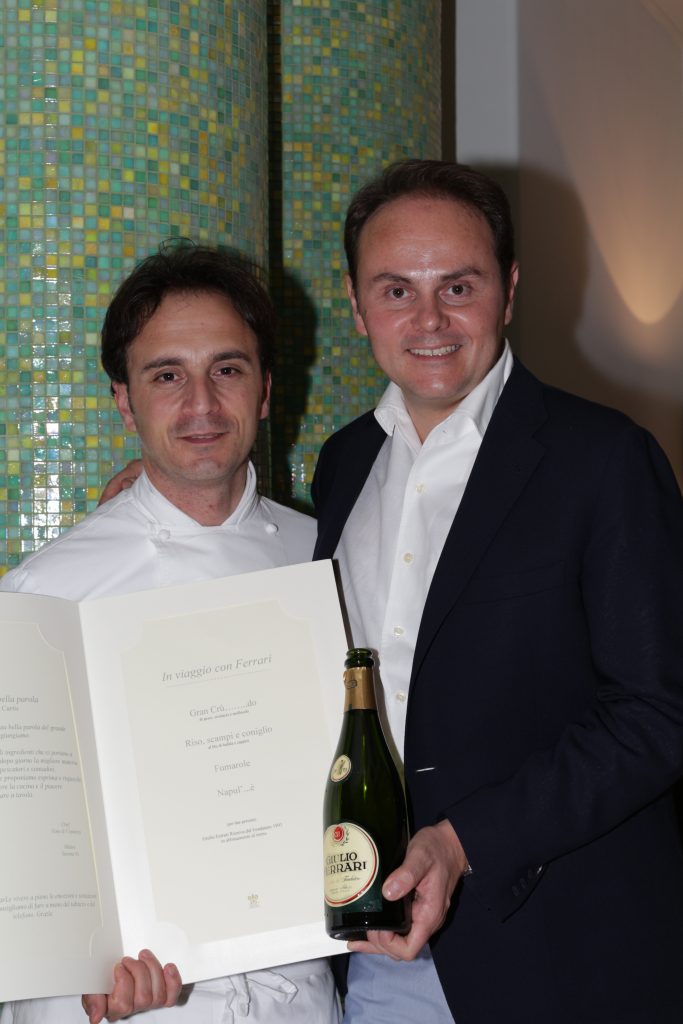 "Traveling with Ferrari" is the title of the menu inspired by Giulio Ferrari Riserva del Fondatore and created by the chef Nino di Costanzo of the two Michelin star restaurant, Il Mosaico at the hotel Terme Manzi in Ischia. His latest creation, a tasting menu where "the Beautiful and the Best cuisine"  meet together in order to allow the guests to experience simultaneously the elegant and simple feelings of  the Italian art of living: Gran Cru … do; rice, shrimp and rabbit ( buffalo mozzarella and capers); Fumarole; Napul '… é. Chef Nino di Costanzo describes his inspiration with these words, "For me a dish is a work of art, it is already written in nature, it needs only to be found: for these dishes I found in Giulio Ferrari 93 the best partner possible, because it struck me,  it gave me the emotions I needed to create my dishes. The ingredients are the painting  to which the right frame needs to be found that contains it perfectly. "Matteo Lunelli, president of Cantine Ferrari, was the first to taste this menu  and he was very enthusiastic: "It is an unforgettable menu, which enhances the Beautiful and the Best cuisine of Italy, refined and simple at the same time, that best expresses the lifestyle of our country. "
In short, a great artist and the Ferrari Trentodoc sparkling wine working once again together to be ambassadors of the emotions that Italy can offer. In the photo one can see Matteo Lunelli with the chef Nino di Costanzo.

Ferrari Trento promotes a culture of drinking responsibly which is part of the Italian Art of Living.
It is a culture linked to the ritual nature of food and the celebration of convivial occasions, in which consumption is moderate and informed.
Enter the ferraritrento.com website only if you share this approach and if you are of the legal age to drink alcohol in your country: a world of excellence awaits you!
Access to the site was denied because you are not of legal age to drink alcohol.