Ferrari accompanies the best cuisine at the eighth Chef's Cup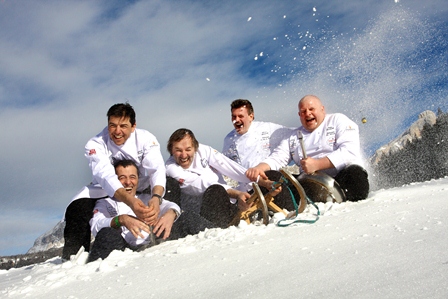 The Chef's Cup is at the highest level from all points of view: for the location, which is always the beautiful Alta Badia; for the participants, who are some of the most acclaimed and well known Italian and foreign chefs; for the restaurants and hotels involved, which are among the best in the Alps; and for the toasts, which will abound and will be always and strictly with Ferrari. The Chef's Cup Südtirol, from Sunday, January 20 to Friday 25, is a large gathering of Italian and foreign chefs, with and without Michelin stars, who, as said by the founder Norbert Niederkofler of the St. Hubertus in San Cassiano Badia a two Michelin star chef in an informal setting, "talk about the new cooking trends without competing in the kitchen but competing on the snow." Ferrari sparkling wine and Segnana grappa will accompany many gastronomic events: the welcome dinner on Sunday 20, the picnic on the terrace at Ciasa Salares on Tuesday 22 with the Jeunes restaurateurs d'Europe, the gala dinner for charity, always on Tuesday 22, an extraordinary performance of some of the the greatest chefs in Europe (beside Norbert Niederkofler there will be Fabio Cucchelli of Siriola in San Cassiano, Andrea Berton, Francesco Mazzei of the Anima in London; Dmitri Shurshakov of Chaika in Moscow, Johannes King of Söl'ring Hof Sylt, Germany; Riccardo Monco of Enoteca Pinchiorri in Florence, Thorsten Schmidt of Malling & Schmidt in Aarhus, Denmark; Xavier Pellicer of Can Fabes in Sant Celoni, Spain), the cooking show on Wednesday, 23 in collaboration with the Region of Umbria which will have as protagonists Giancarlo Polito of Locanda del Capitano in Montone, Marco Gubbiotti of the Cucina di Foligno and Marco Bistarelli of Postale in Castello di Monterone. During this occasion, Sagrantino wine of Tenuta Castelbuono will be offered. Ferrari and Segnana will be also served during the spectacular closing dinner, on Friday 25, at the Hotel Rosa Alpina in San Cassiano created by an incredible number of star chefs: Norbert Niederkofler, Alfio Ghezzi of Locanda Margon, Davide Oldani, Davide Scabin, Enrico Cerea, the Finnish Hans Valimaki, the Swedish Gustav Knutsson and the Peruvian Mitsuharu Tsumura.

Ferrari Trento promotes a culture of drinking responsibly which is part of the Italian Art of Living.
It is a culture linked to the ritual nature of food and the celebration of convivial occasions, in which consumption is moderate and informed.
Enter the ferraritrento.com website only if you share this approach and if you are of the legal age to drink alcohol in your country: a world of excellence awaits you!
Access to the site was denied because you are not of legal age to drink alcohol.