Ronaldinho toasts with Ferrari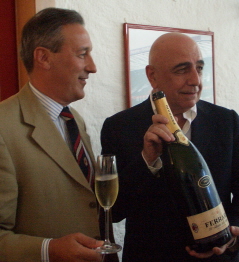 The official presentation of the Milan football team, which will play the Italian soccer championship of 2008-09, has never been so sparkling thanks to the new red and black players, Flamini, Zambrotta, Borriello, the long awaited Ronaldinho and Ferrari's bubbles Perlè 2003. Flûtes of Ferrari started the delicious reception prepared by the Giannino restaurant of Milan. The festivities ended after a toast of good wishes with a Jeroboam bottle of Ferrari, with a special Milan tailored label. Then Guido Pianaroli, Managing Director of Ferrari, handed over to Adriano Galliani two historic Ferrari Magnum bottles, one for Silvio Berlusconi and the other for him. Historic because they were made with the grape harvest of 1986, the year in which Berlusconi bought the Milan football Club and started an irresistible ascent which brought Milan to its present standing, with the title recently won, number 1 in the world.

Ferrari Trento promotes a culture of drinking responsibly which is part of the Italian Art of Living.
It is a culture linked to the ritual nature of food and the celebration of convivial occasions, in which consumption is moderate and informed.
Enter the ferraritrento.com website only if you share this approach and if you are of the legal age to drink alcohol in your country: a world of excellence awaits you!
Access to the site was denied because you are not of legal age to drink alcohol.