The new Ferrari Maximum Blanc de Blancs debuts in Germany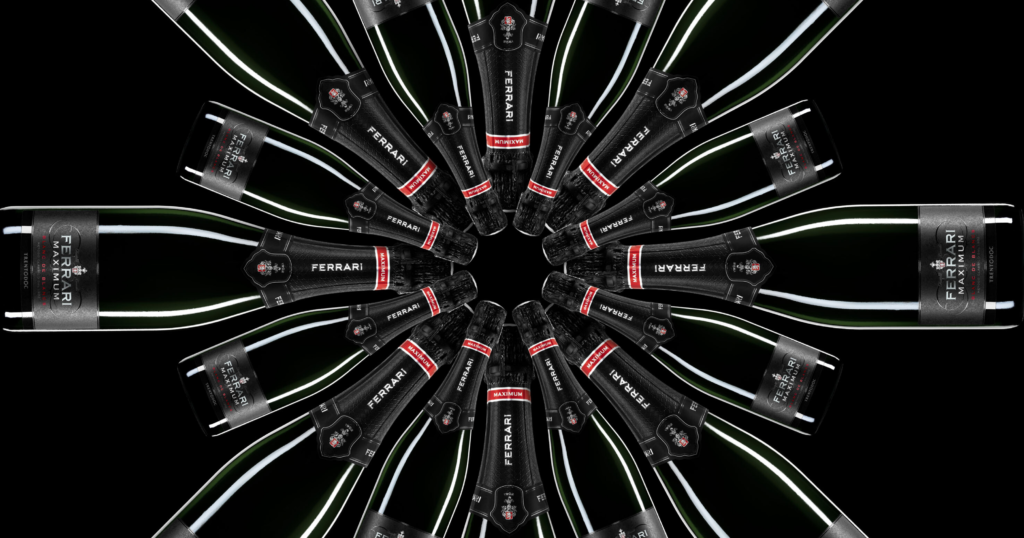 Following the success of the launch in Italy, where it conquered the most fashionable wine bars and restaurants, Ferrari Maximum Blanc de Blancs now debuts in Germany. With its new image, this Trentodoc is strongly contemporary, but nevertheless remains perfectly in line with the Company's history.
The name "Maximum" goes back a long way. It was the first label created in the early 1900s by Giulio Ferrari, the Winery's founder, but even today it represents the Company's passion and experience in cultivating Chardonnay grapes, which find one of their maximum interpretations in this sparkling wine.
The new packaging of Ferrari Maximum Blanc de Blanc, created by the Robilant & Associati agency, gives particular emphasis to the traditional colours of the House, black and white, to which a significant touch of red – a colour that has always been part of Ferrari's crest – has been added. The capsule is particularly refined: it reveals a raised texture created by repetition of the letter "F", which has now become one of the winery's distinctive traits. The result is an elegant, modern image, which conveys Ferrari's expertise in the production of outstanding sparkling wines.
Ferrari Maximum Blanc de Blancs is a Trentodoc with great personality, made from Chardonnay grapes from mountainside vineyards and matures for 30 months on the lees before developing into wine of attractive freshness and engaging fragrance both on the nose and pallet.
The new packaging is also extended to include Ferrari Maximum Rosé. Rich and complex, with notes of berry fruits and long finish with delicate yeasty hints, this Rosé is a perfect synthesis between the structure of Pinot Noir and the elegance of Chardonnay.
While ideal as an aperitif, both of them are also extremely versatile for pairing.
With this restyle the Maximum collection, becomes a new invitation by the Lunelli Group's winery to savour every sip and enjoy every moment #ToTheMaximum – in line with the style of Ferrari Trento, which has always been an ambassador for the Italian Art of Living.

Ferrari Trento promotes a culture of drinking responsibly which is part of the Italian Art of Living.
It is a culture linked to the ritual nature of food and the celebration of convivial occasions, in which consumption is moderate and informed.
Enter the ferraritrento.com website only if you share this approach and if you are of the legal age to drink alcohol in your country: a world of excellence awaits you!
Access to the site was denied because you are not of legal age to drink alcohol.